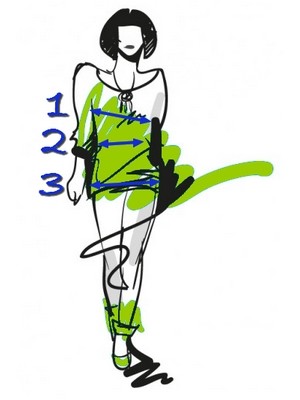 Standard measurements
Size XS: bust (1) 82cm / 32 inches - waist (2) 64cm / 25 inches - hips (3) 86cm / 34 inches
Size XS/S: bust (1) 86cm / 34 inches - waist (2) 66cm / 26 inches - hips (3) 90cm / 35 inches
Size S: bust (1) 88cm / 35 inches - waist (2) 70cm / 27 inches - hips (3) 92cm / 36 inches
Size S/M: bust (1) 90cm / 36 inches - waist (2) 72cm / 28 inches - hips (3) 96cm / 38 inches
Size M: bust (1) 94cm / 38 inches - waist (2) 76cm / 30 inches - hips (3) 98cm / 39 inches
Size M/L: bust (1) 100cm / 40 inches - waist (2) 80cm / 31 inches - hips (3) 102cm / 41 inches
Size L: bust (1) 104cm / 41 inches - waist (2) 82cm / 32 inches - hips (3) 106cm / 42 inches
Size L/XL: bust (1) 110cm / 43 inches - waist (2) 86cm / 34 inches - hips (3) 110cm / 43 inches
How to take your measurements
When taking your measurements, use a cloth tape measure. Make sure that, when you circle your chest, waist, or hips, the tape is level and neither too tight nor too loose.
Bust measurement (1): place one end of the tape measure at the fullest part of your bust, wrap it around (under your armpits, around your shoulder blades, and back to the front)
Waist measurement (2): use the tape to circle your waist (sort of like a belt would) at your natural waistline, which is located below your rib cage and just above or below your belly button.
Hips measurement (3): start at one hip and wrap the tape measure around your rear, around the other hip, and back to where you started. Make sure the tape is over the largest part of your buttocks.