Inspiration (15) : hoodie lover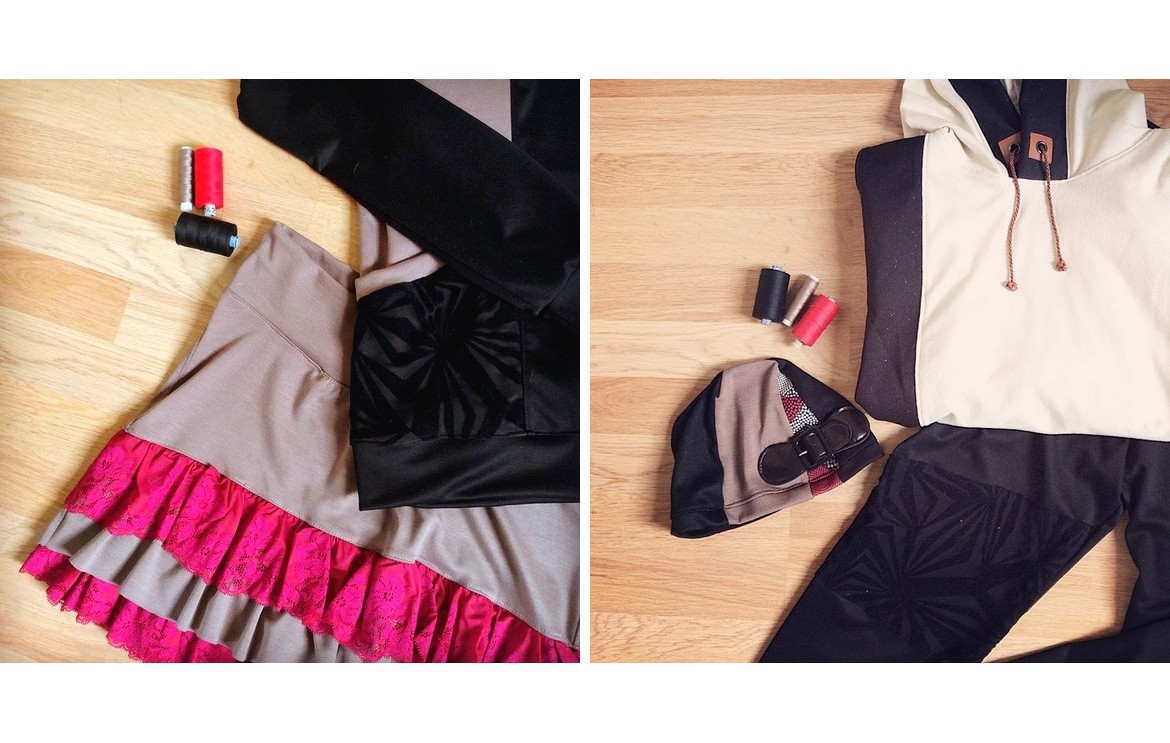 Which garment is comfortable, warm and cool at the same time? The hoodie of course!
And it has inspired the next 4 styles!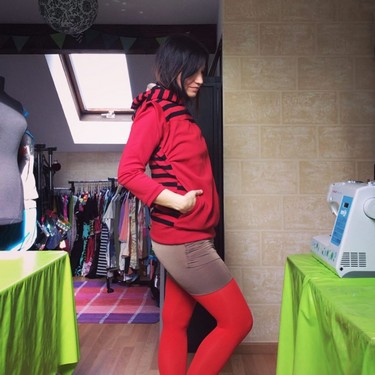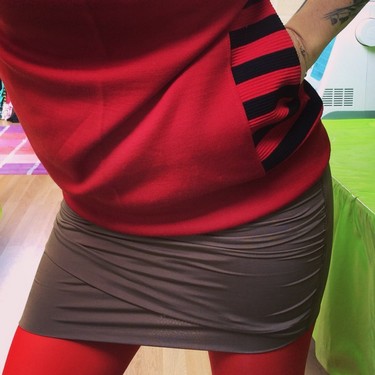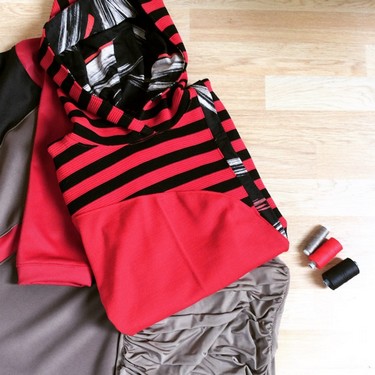 Let's start with this first outfit: the red and black sleeveless sweater is worn over a top with mid-length sleeves and paired with a draped mini skirt for a fun casual look.
Items references: hoodie - top - skirt - the sweater is also available in another color, but it's the very last skirt in stock with this design (sold at a very low price)!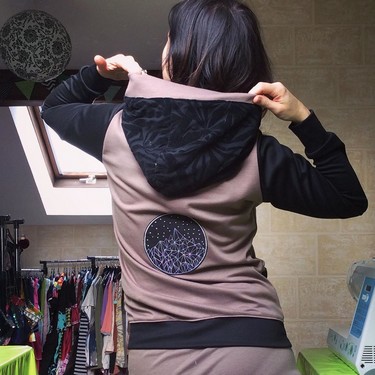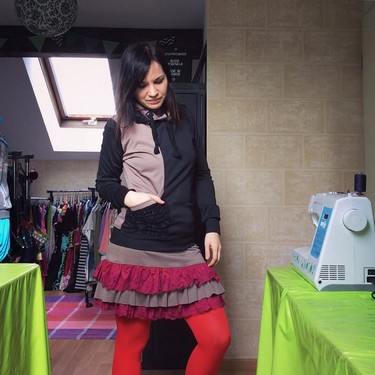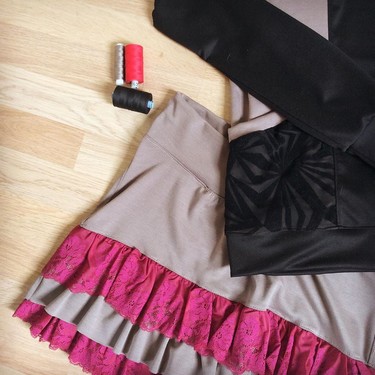 This second outfit includes the two-tone hoodie from the winter 2019 collection, here in taupe, and a taupe mini skirt with a raspberry lace detail.
Items references: hoodie - skirt - sweatshirt custom made in 3 colors, the skirt has been sold in the meantime, but it is still available in cream and super cheap right now!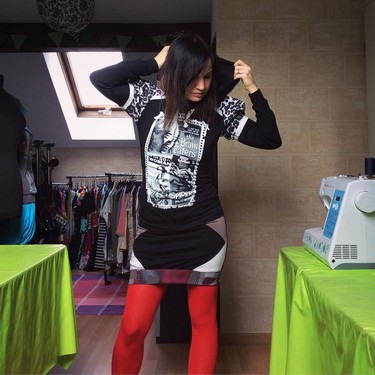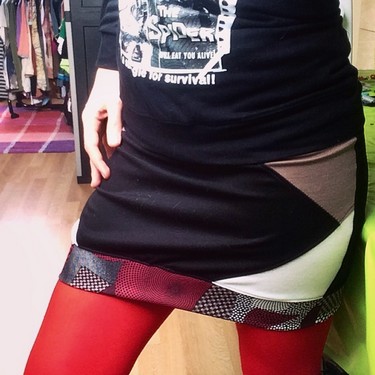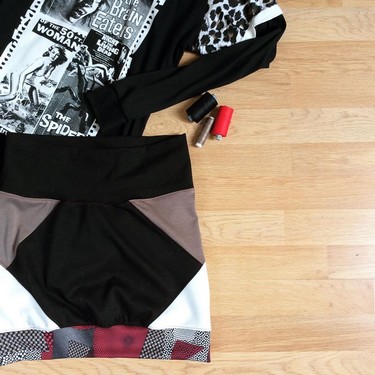 The retro posters printed hoodie was part of the « Oh the horror! » collection and the skirt with geometrical panels is from an old winter collection. Both pieces were made several years apart but they look great together!
Items references: hoodie - skirt - there is still another sweater in the same collection and the skirt is now 50% off, enjoy!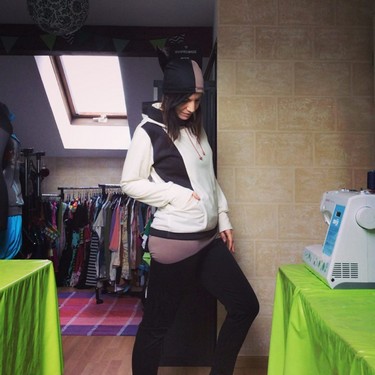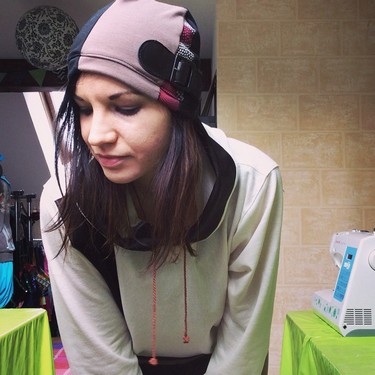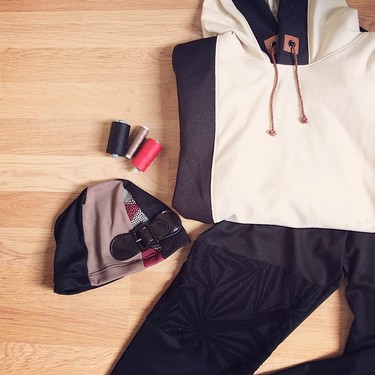 And finally for this last selection I am wearing a two-tone sweatshirt in cream fleece and black glitter lycra inspired by a design from my latest collection, with the paneled leggings from the same collection. The hat is much older (winter 2014!) but curiously well matched to this warm and super comfortable look!
Items references: hoodie - pants - hat - the sweatshirt is also available in khaki and the leggings are proposed in 3 colours in custom order. Last bonnet on sale at a very low price!
What can still be purchased will be found in the online shop (free worldwide shipping) ; some items have already been sold but can be reproduced as custom orders depending on the availability of my supplies.


Enjoy the end of winter and come back later for spring creations!
Comments
Leave your comment