Inspiration (18) : tees with sayings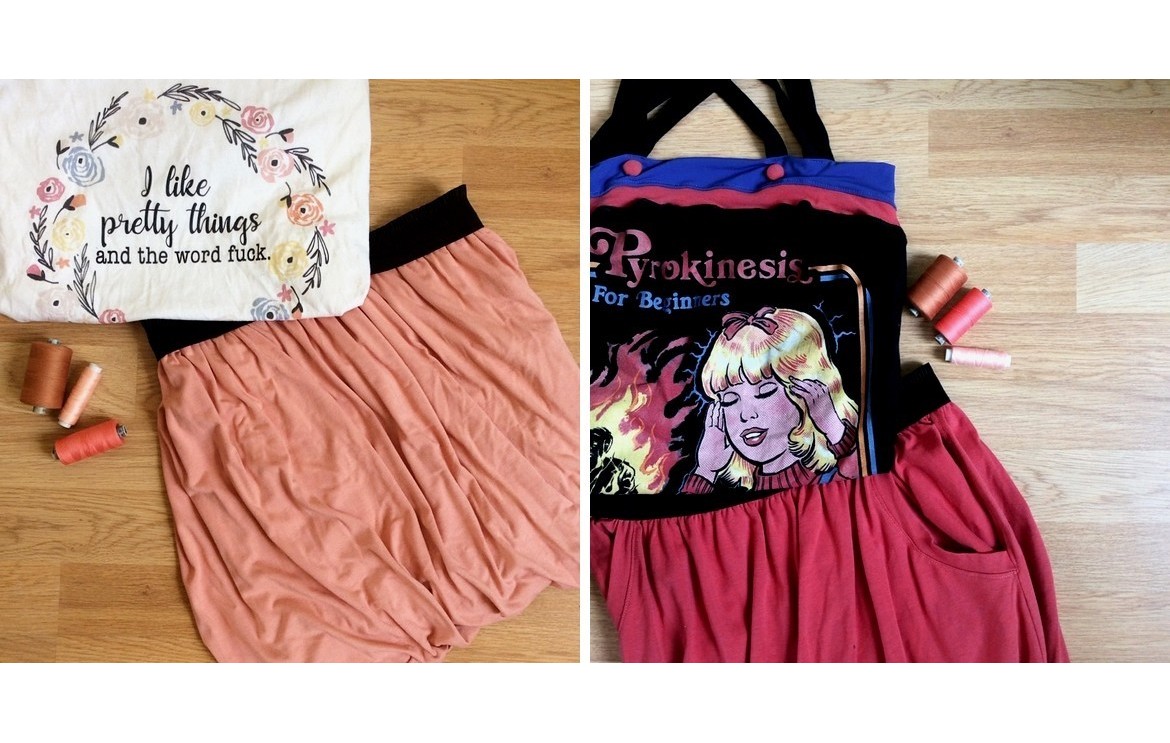 Everybody loves cool tees with fun sayings!
And they're a good way to spread a message around you ;)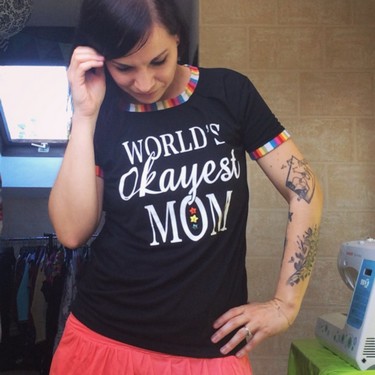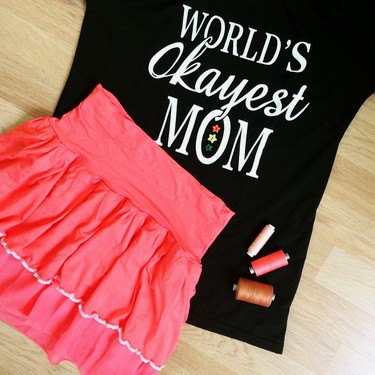 I would have loved to be an "insta-mom" who cooks beautiful cakes with organic ingredients for her very cute children who play quietly in a carefully decorated room. But most of the days I'm a mother who cries, who yells, and sometimes cries because she yells, with 2 wrestlers of 4 and 6 years old who turn the house upside down on a daily basis - clearly I won't be the best mother of the year 2020.
But my boys are fed (mostly with frozen french fries), (almost) clean, and loved (unconditionnally, especially when they sleep ;) )... so it's not so bad !
Best of luck to the mothers who do what they can. One day at a time.
I wanted to honor them with the "World's Okayest Mom" t-shirt I recently made ; it is worn with a mini skirt in coral knit fabric and chiffon.
Items references: t-shirt - skirt - t-shirt available in size XS to L, skirt on sale (50% off!)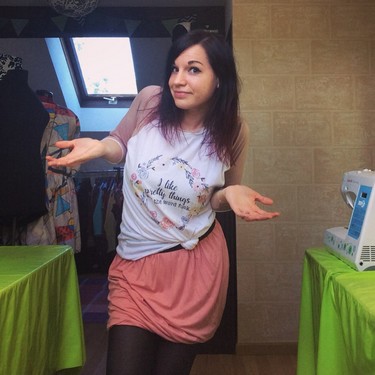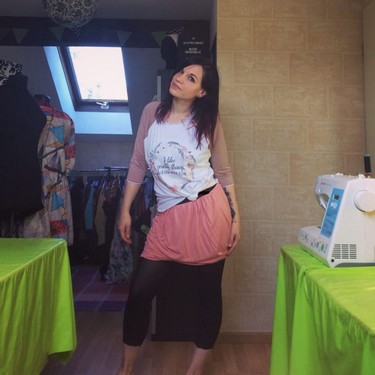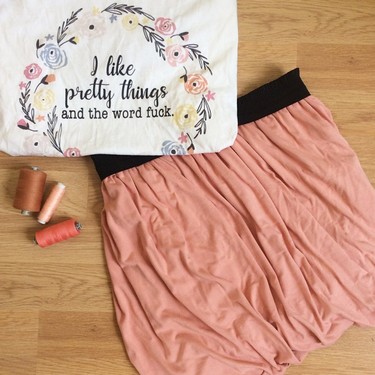 In this second outfit I'm wearing a mid-length sleeved top saying "I like pretty things and the word fuck" (my tastes summed up in one sentence!) with a coral draped ball skirt.
Tip: if a t-shirt is a bit loose or long, try to tie it for a nice gathered effect!
Items references: top - skirt - t-shirt available with 3 different prints, skirt still available in 2 colors.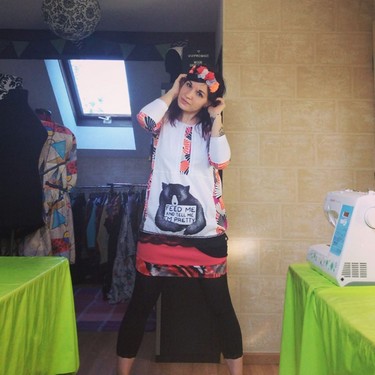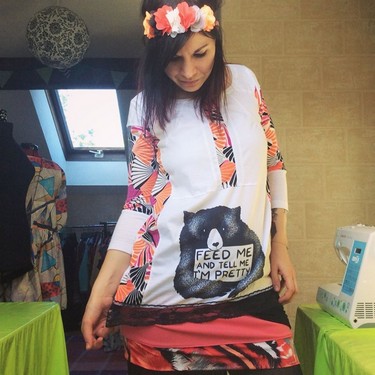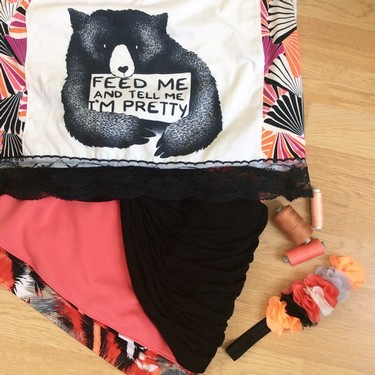 This time the mid-length sleeved top says "Feed me and tell me I'm pretty" (just so you know, I married the man who was able to respect both conditions!) ; I am wearing it with a neon pink mini skirt with a black draped panel. And for a boho detail, I added a headband with multicolored flowers in my hair!
Items references: top - skirt - bandeau - t-shirt available with 3 different prints, skirt still available in 2 colors (they're 50% off!) and headband in very small batch!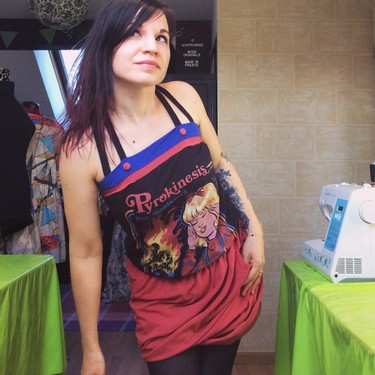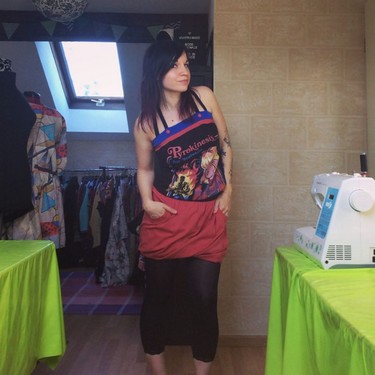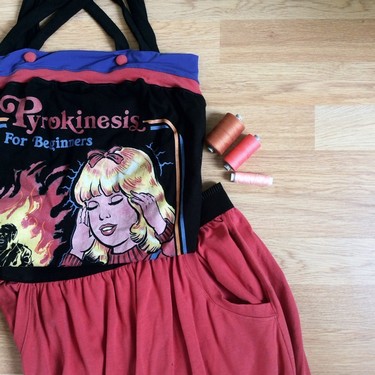 Summer is just around the corner in France so I end with a halter top with a super fun "Pyrokinesis for Beginners" print with colorful details... admit that it could be very useful in some complicated situations :D I am wearing it with a draped mini skirt (with pockets!) in rust color.
Items references: top - skirt - top available with 3 different patterns, skirt available in 2 colours!
Many of the items displayed here are still waiting for you in the online shop (free worldwide shipping), unless they have already been sold - some of them can be remade as custom orders depending on the availability of my supplies.


What about you guys, if you could choose the saying on a t-shirt, what would you want it to be?
Comments
Leave your comment