Inspiration: how to add glitter in your outfits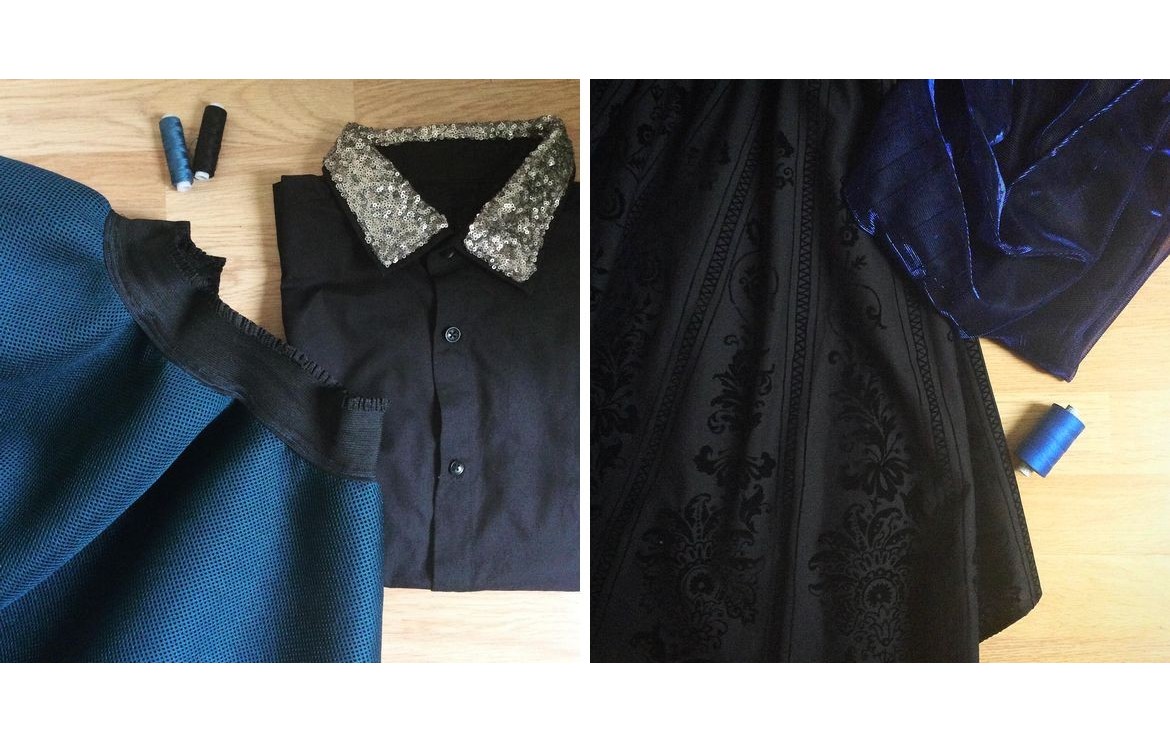 Glitter is always an option!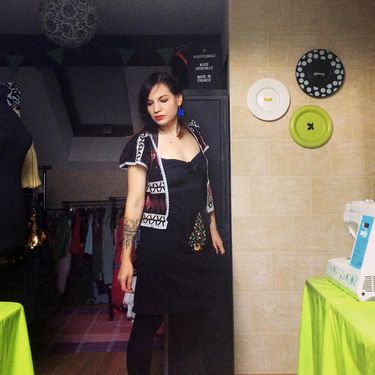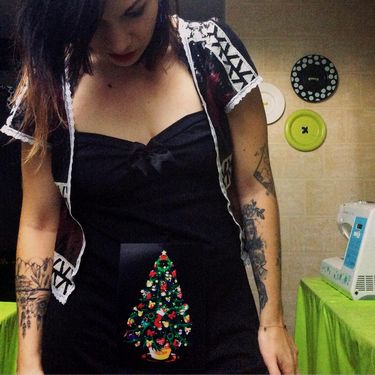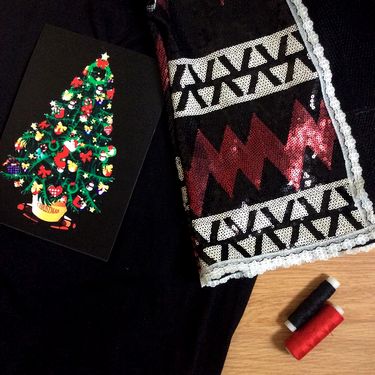 Let's start with this first look for Christmas featuring a black dress with a LED tree! I am wearing it with a dark red/black sequins jacket that brings a lot of elegance to this quirky outfit.
Items references: dress - jacket - the jacket is a one-of-a-kind piece and as I never found anyone crazy enough to buy this dress I made several years ago, I decided to keep it for myself ;) but it can be used as inspiration for a custom order!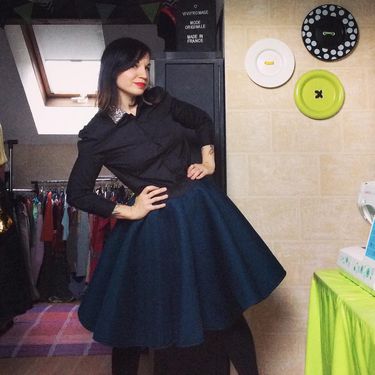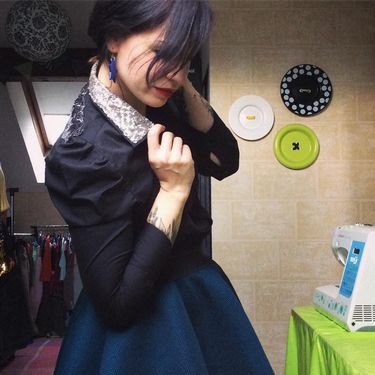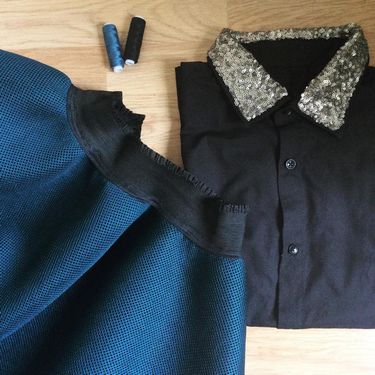 Here's a new look with sequins: I'm wearing a black top with puffed sleeves and a silver sequins collar that I made from a man's shirt, with a very puffy reversible midi skirt (no petticoat needed!). An retro-inspired outfit with very modern fabrics!
Items references: top - skirt - like all the upcycled items, the top is a unique piece (but there is another one in a similar style), the skirt is also available in brown with khaki lace.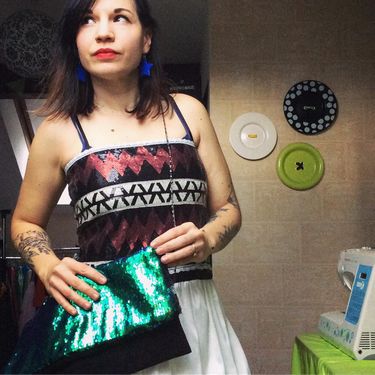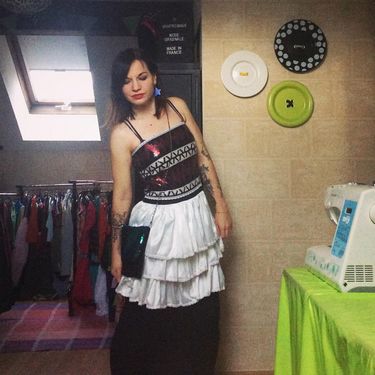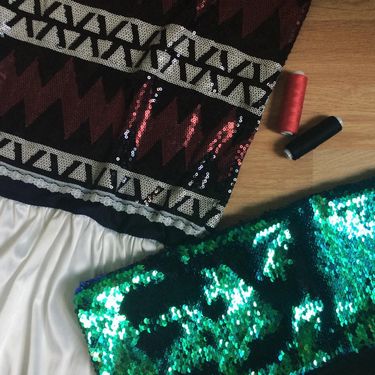 Here is another super fun look that you can wear during any special occasion. This dress had 2 lives: at first it was the sample of the "Emeline" wedding in my capsule collection, then it became a cocktail dress thanks to its pretty black and dark red sequin top. There's no such thing as "too much glitter" in a party outfit, so I added a black velvet clutch with a reversible green and black sequin flap. A chic and original style!
Items references: top - skirt -  the dress is a unique piece, the bag is now discounted and is also available with gold sequins.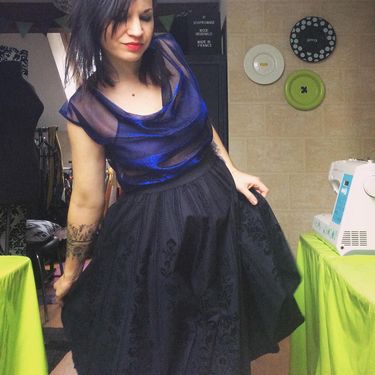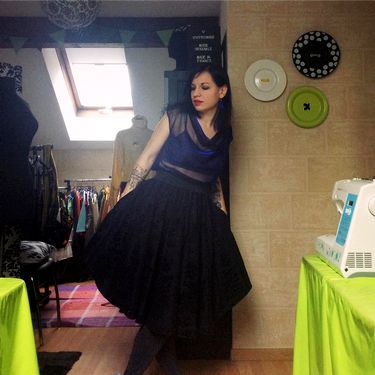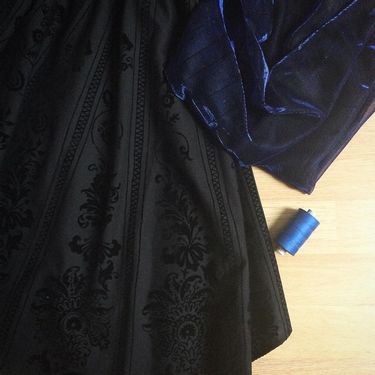 Here's my last festive look: I'm wearing a shiny top I made just a few weeks ago, here in midnight blue, with a black asymmetrical skirt with a beautiful flocked baroque pattern. An outfit with a bold style that I would have been tempted to keep if it was my size (everything is pinned in my back)!
Items references: top - skirt -  the top is available in 3 colors, the skirt is available with 3 different prints.
Most of these items can be found in the online shop (free worldwide shipping), unless they have already been sold - some of them can be remade as custom orders depending on the availability of my supplies, feel free to contact me to know more  ;)

Finally, I wish you all the best for this new year! Take care of you.
Comments
Leave your comment