Inspiration: "too cool for school", quirky outfits for this new school year!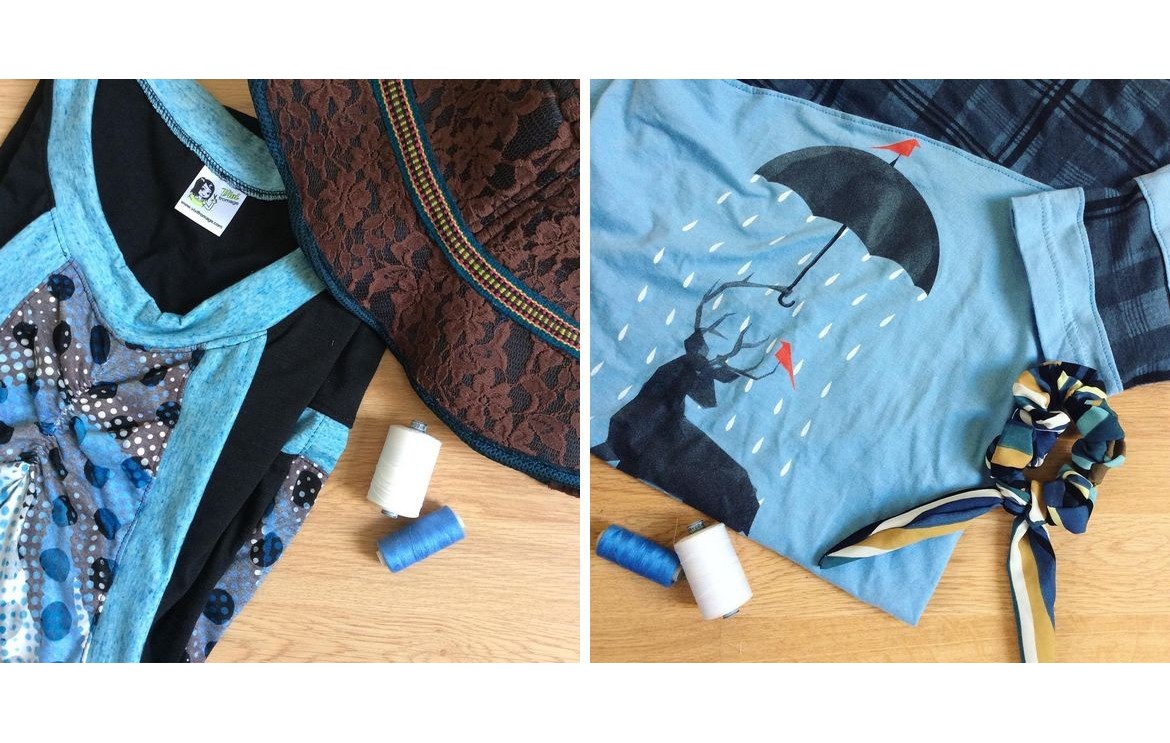 When I was young, I had new clothes every school year...
...but the style was very classic: white shirt, navy jeans, black leather shoes.
So to take my revenge on these years, I came up with 4 colorful and original looks in this "Too cool for school" selection (too old too but it's another question !)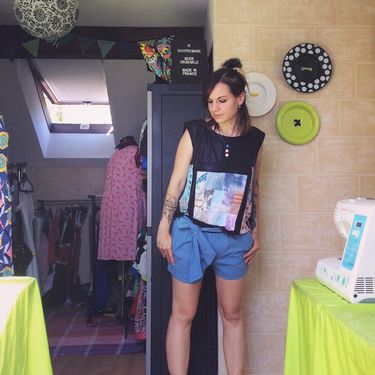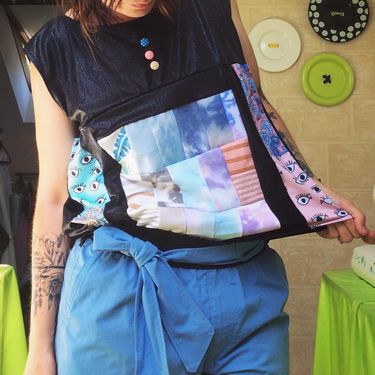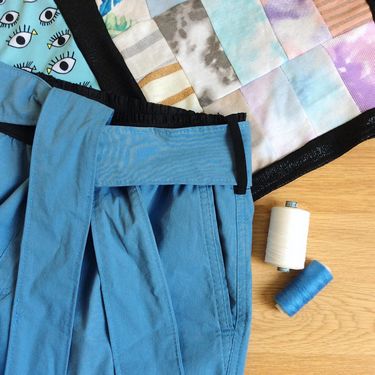 And it starts with a 100% upcycled outfit: the top is made from fabric samples and the shorts from men's pants.
Items references: top - shorts - the top is of course a one-off but I made 2 more from the same pattern; the shorts are also available in navy blue.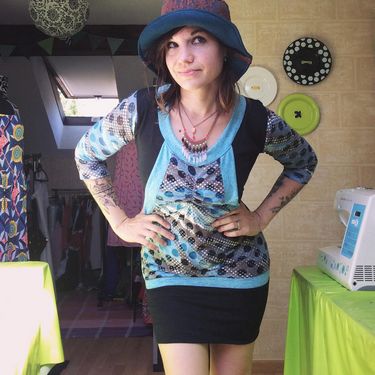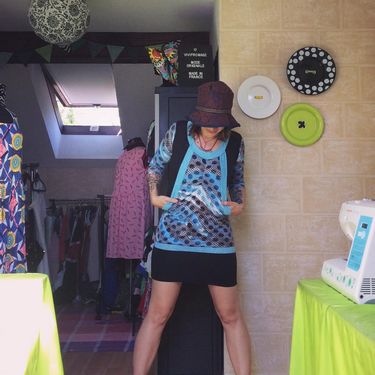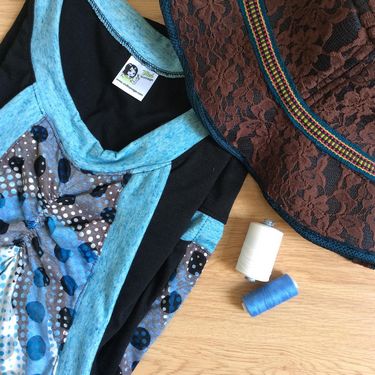 Another "Too cool for school" selection, for fun outfits that you won't see everywhere! I'm wearing a black and turquoise signature dress with a large front pocket in polka dotted fabric. To keep a perfect hairdo (or not) if it rains, think of the rainhat and not just any hat: this one is in brown lace lined with teal technical fabric!
Items references: dress - hat - the dress is 50% off; the hat is also available in red and khaki.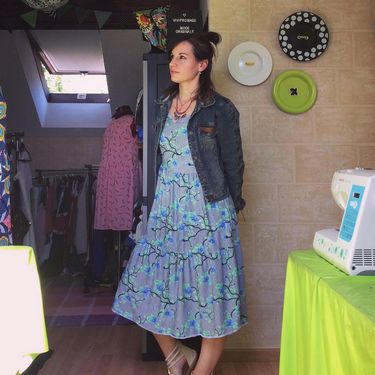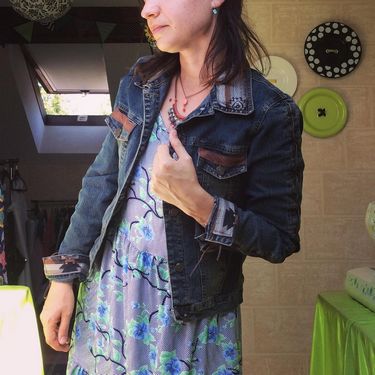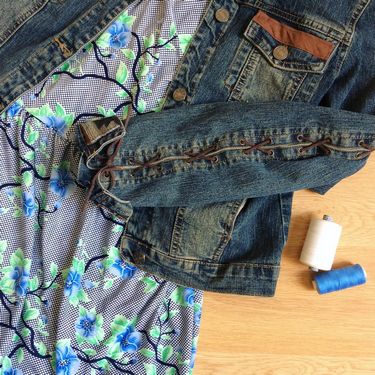 Third look, still with unusual pieces. When the style of the garment is quite classic, it's the fabric that makes everything! This is the case for this midi dress with a beautiful floral print. I am wearing it with a custom denim jacket with panels of Aztec inspired fabric. A relaxed but not boring outfit!
Items references: dress - jacket - the dress comes in 3 prints; the upcycled jacket is of course a one of a kind design.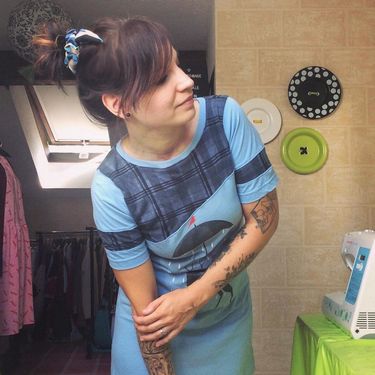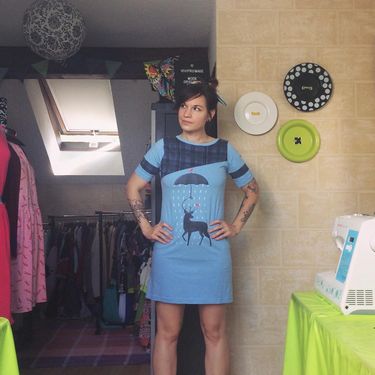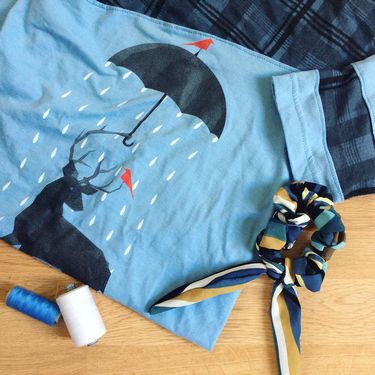 Here's the last look for a fun, offbeat style! I'm wearing a blue dress with a beautiful screenprinted deer and several plaid panels. Tip: to accessorize a simple bun, think of the timeless scrunchie!
Items references: dress - scrunchie - the dress is a unique piece, take advantage of it, it is on sale; the scrunchie is available in dozens of prints!
Most of these items can be found in the online shop (free worldwide shipping), unless they have already been sold - some of them can be remade as custom orders depending on the availability of my supplies, feel free to contact me to know more  ;)
Comments
Leave your comment